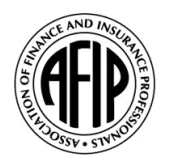 When you order the AFIP Certification Course through CN, you get more than just a hefty discount off the retail rate. When you successfully complete the course, CN will send you an additional rebate of $200.
Please note that the rebate is only offered to active clients of Continental-National.
What's Included
All of AFIP's study materials are now online. When you receive your package, you'll get instructions on how to create and access your online training account. The online training still includes all of your favorite study aids, just in a more flexible format.
Detailed lesson plans to walk you through what you need to know about each section
Videos by a former Northwood University professor and 20-year AFIP partner Accredited Facilitator
Downloadable audio files of the lecture series for portable study
Required reading documents to supplement the course text
Practice quizzes so you can judge how you're doing so far
You'll also receive the following at no additional charge.
Carlaw F&I Legal Desk Book (by the dealership lawyers at Hudson Cook)
4 Easy Steps to AFIP Certification (Step-by-Step Instructions for Getting Certified)